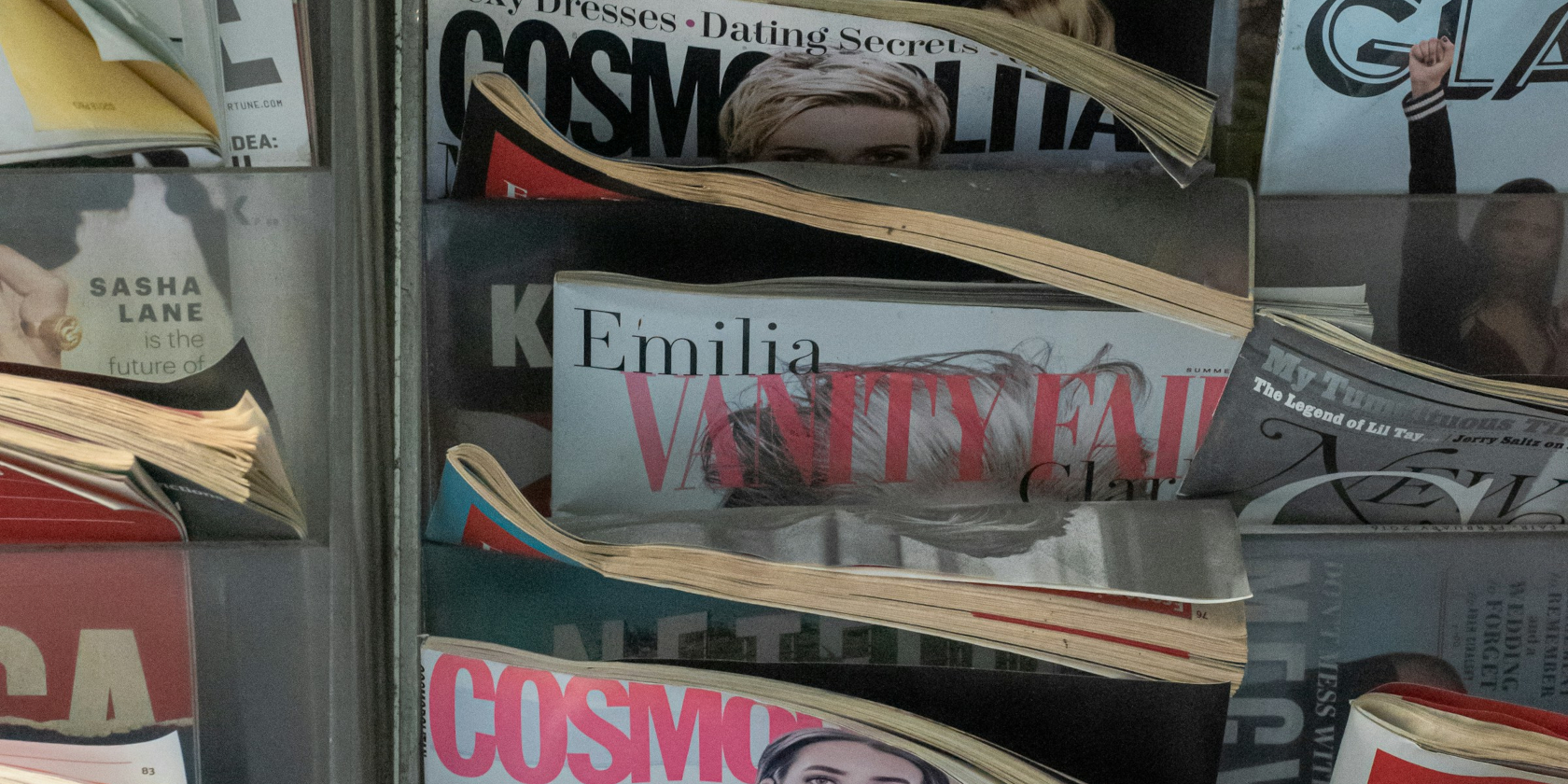 FreshRSS – Stay safe and never visit another website again 
Here at Linux Impact, we love to read. It comes even higher on our things-we-love-to-do list than tinkering with computers - but only just.
Of course we read books, moreso now we've sorted out our bizarre and unexpected Undernet problem, we also like to read magazines and other magazine-like publications on the internet. We love it.
What we don't love is terrible layouts, adverts, tracking, soft paywalls, article limits, pop-up adverts, and pop-ups in general. The web sucks in its current state, and pop-ups of all varieties suck more than most things - they ruin the immersion of a good article, and they remind the reader that they have other things they should be getting on with.
And then there's the problem of knowing which sites have updated their content and when.
FreshRSS - a beautiful piece of open source, self-hosted, web facing software - has been the answer to our prayers. OK, not prayers - minor curses at minor irritations. It fills a need we always knew we had, but lacked the appropriate tool to do anything about.
WTF is RSS?
RSS stands for Really Simple Syndication - we've written about RSS before in another context. The short version, plagiarised from ourselves is as follows:
RSS is an old-school technology from back when the web was starting to become popular. It offered sites a means of having their news automatically appear on the front page of a different site – usually via means of a ticker.

Like many things (such as this writer), what was once cool is now lame. No-one uses a ticker anymore, because it's not 1998. But RSS feeds are still published, and RSS readers are able to easily pull in news from around the internet.

Unlike a web browser, which requires you to manually input searches every time you want to run them, an RSS client will save your searches, and hunt for fresh news in a predetermined list of places every time you hit refresh.
For a desktop-based RSS reader, we recommend QuiteRSS which comes with a split-screen, the bottom portion of which is a browser which displays the content on the original site. FreshRSS is different.
Get on with it! WTF is FreshRSS.
Fundamentally, FreshRSS is a web-based RSS reader that you host on your own hardware (We use a Raspberry Pi 4B for a number of reasons).
Used as a simple RSS reader it's quite nice. You point a web browser to your server, press a button and it will pull down RSS feeds exactly as you would expect - A title, maybe a picture, the stub of an article, or, if the original site allows it (they rarely do), the entire text of an article.
You can sort feeds into categories, you can browse feeds in a number of different ways, you can click through to the original site.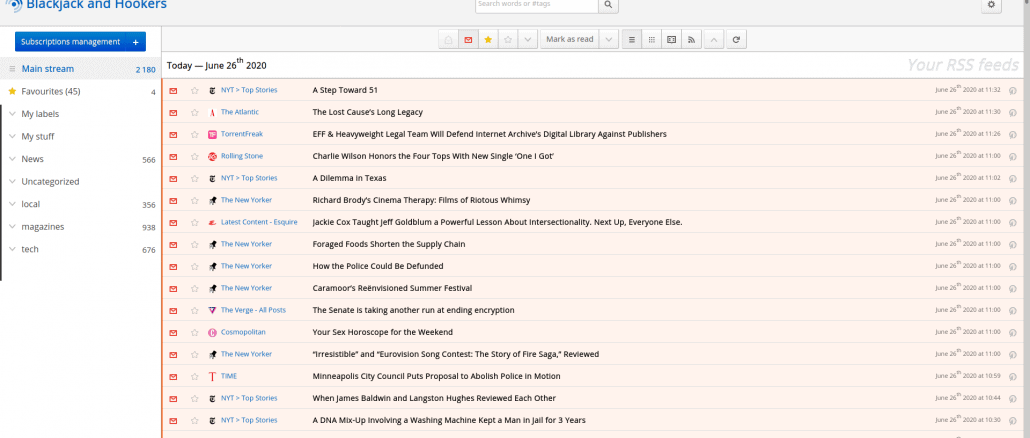 You can also, and this is big, have the entire article pulled down to your server in advance - ready to read, and with all of the bullshit pop-ups, nags, adverts and trackers stripped from it.
You can click on every single title in the image above, and the full content of the article will be revealed unto you. It's not a browser window which links through to the original site, the content has already been fetched and is stored on your server. Nice, eh?
It does this by use of CSS selectors. When a site provides an RSS feed, it provides links to the original article. FreshRSS follows those links and searches for elements on the page which contain selectors you..erm.. select.
If you're using Firefox, right click on the body of the text, and then click select element, a blue overlay will show you what is included by that selector. Right click on the line of code, then click copy > CSS selector. Paste it into the CSS selector field of the relevant feed management page on FreshRSS, and then update. Boom, it's done. Full articles in your feed, which you can access from wherever.
Another plus is that because you're not actually visiting the page with your browser, javascript doesn't run, visits aren't tracked, and soft paywalls no longer have any power.
It's like magic.
FreshRSS isn't the only FOSS which can do this for you. Miniflux will pull the full article at a touch of a button , and TTRS has a number of plugins which provide similar functionality. But we're not massively fond of the miniflux interface, while TTRS is (in our view) both fiddly and clunky. Prior to discoverig FreshRSS a couple of months ago, we used Nextcloud news, however this isn't as configurable as we would like.
Most sites will provide a feed if you add either /rss or /feed after the URL. For those which don't, the feed creator at fivefilters can usually make one for you.
What we're reading with FreshRSS
Now you have this fabulous tool in your hands, you're probably wondering what to read with it. Here's a sample of what we're digesting on a daily basis. You can find the relevant selectors yourselves. Some of them won't require you to specify one at all.
9to5Linux
site: https://9to5linux.com/
feed URL: https://9to5linux.com/feed
New York Times
site: https://www.nytimes.com/
feed URL: https://rss.nytimes.com/services/xml/rss/nyt/HomePage.xml
Wired
site: https://www.wired.com/
feed URL: https://www.wired.com/feed/rss
Cyberpunks
site: https://www.cyberpunks.com/
feed URL: https://www.cyberpunks.com/feed/
The Economist Special reports
site: https://www.economist.com/special-report/
feed URL: https://www.economist.com/special-report/rss.xml
Cosmo
site: https://www.cosmopolitan.com/
feed URL: https://www.cosmopolitan.com/rss/all.xml/
Discover Magazine
site: https://www.discovermagazine.com/rss/all
feed URL: http://feeds.feedburner.com/AllDiscovermagazinecomContent
Esquire
site: https://www.esquire.com/
feed URL: https://www.esquire.com/rss/all.xml/
Popular Mechanics
site: https://www.popularmechanics.com/
feed URL: https://www.popularmechanics.com/rss/all.xml/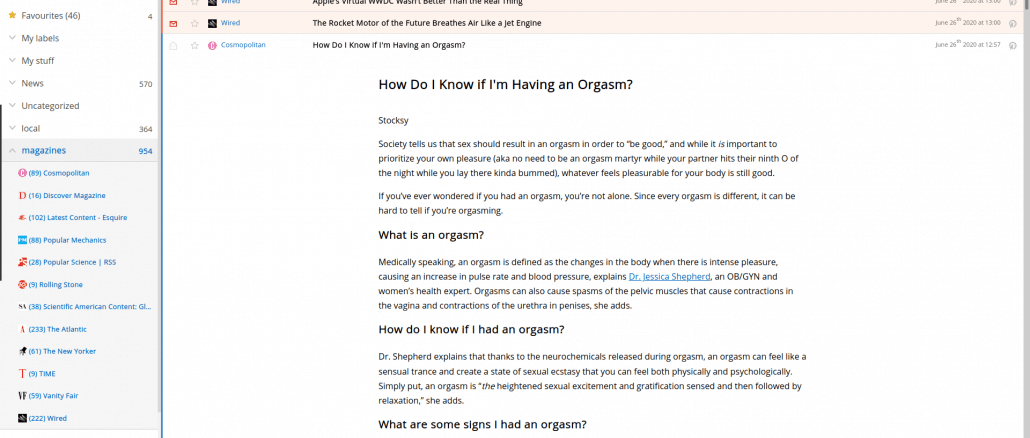 That's some quality content from Cosmo right there.